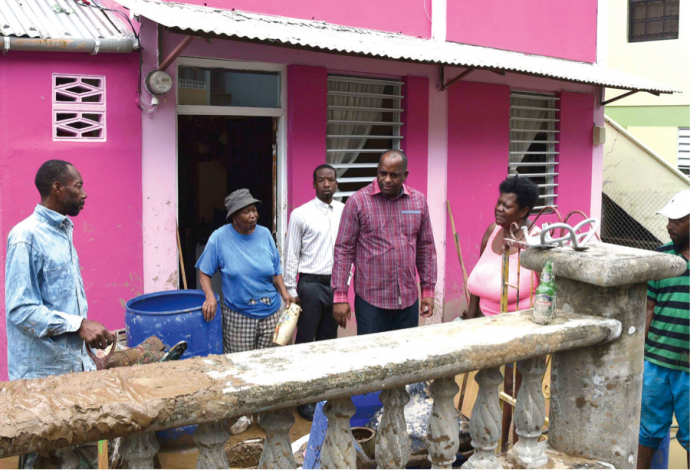 05 Oct

5 Leadership Lessons from Prime Minister of Dominica Roosevelt Skerrit

In 2015 following the passage of Tropical Storm Erica, this article appeared in the November issue of the OECS Business Focus. Today, two years later, Dominica is recovering from category 5 hurricane Maria. The impact on life, agriculture and infrastructure according to PM Skerrit is "mind-boggling". We revisit the article and the lessons on leadership in times of crisis.

———————————————————————————————————————–

Branded as "the nature isle", Dominica stands out amongst its Caribbean brothers and sisters as distinctly lush and un-spoilt, accented with the unforgettable Carib peoples and the intoxicatingly rhythmic World Creole Music Festival. But Dominica has been trending across all media platforms for another reason since 26 August 2015.

Tropical Storm Erika came not unexpectedly, but brutally, destroying villages, businesses and critical infrastructure, and at the same time taking the lives of whole family members each desperately trying to save the other. What we saw in Erika's aftermath transposes our memories to the devastation in Grenada following the passage of hurricane Ivan in 2004. No doubt the Caribbean has seen the havoc of hurricanes before, but with each encounter it reminds us that it could be any of us, at any time. We are one, separated by waters but connected through our people, whether familial relations, business networks, educational exchanges, sporting exploits or that general identification of being West Indian – we are one.

So when Erika hit Dominica and the immediacy of social media started circulating images of streets turned into boulder-filled rivers, houses flipped upside-down exposing battered foundations, trees uprooted like feathers plucked from a rooster's chest and former agricultural lands flattened as if being prepared for cultivation, we understood, we felt the pain, we were ready to assist in the recovery and rebuilding.

One month after the momentary halting of time in Dominica, we see admirable progress being made. Temporary bridges have been installed to reconnect villages, debris removed from roadways and provisional homes erected.

Leading this long journey to full recovery is the country's recently re-elected Prime Minister and Minister of Finance Honorable Rossevelt Skerrit. He together with the many unnamed officials, passionate volunteers and shell-shocked citizens are starting each day with renewed energy and optimism.

Prime Minister Skerrit has surely learnt from the experiences of Grenada following hurricane Ivan in 2004 and St Lucia and St Vincent and the Grenadines following hurricane Tomas in 2010. So as family members do, the leaders of these islands would have shared their advice, offered suggestions, provided moral support and most tangibly financial and technical assistance. Prime Minister Skerrit has humbly accepted the guidance and demonstrated his unique style of leadership in the process.

So what have we learnt from Prime Minster Skerrit about leadership during times of crises.

1. Communicate clearly and consistently

For the first few days following and ongoing since tropical storm Erika hit, Prime Minister Skerrit has been cleverly taking to Twitter and Facebook to provide real-time written updates and visual snapshots of the progress. He has also employed traditional media – radio and television – to deliver comprehensive addresses to the nation and content relevant press briefings, each also being linked on the various social media channels, to ensure that the extended families in the diaspora and supporters overseas are similarly informed. During these sessions he calmly articulates and reinforces his strategy for the recovery and rebuilding, steadily provides factual progress reports, forgivingly clarifies any misinformation and authoritatively responds to questions from the media.

The product of these communications activities is a singularity of message across all channels, thereby creating understanding and unifying volunteers, donors and well wishers to one goal – rebuilding.

2. Inspire confidence

Prime Minister Skerrit recognizing the expectations of his people and the easy descent into despair when faced with great loss, sort to encourage Dominicans to hold their heads up and remain hopeful for the future – "I do not want us to behave like people in despair or with no hope…we must ensure that as a country we remain united in our purpose to rebuild our country". In his charismatic way, he is truthful about the realities of the economy post Erika, yet he deliberately continues to speak positively and optimistically of Dominica's future.

3. Model the behaviors

As the face and voice of his nation, Prime Minister Skerrit has demonstrated an ability to relate and empathize. He does so by listening to and consoling everyday citizens, touring affected villages, consulting with technical experts, encouraging farmers and small business owners and acting as host to foreign donors and supporters. Moreover in modeling the behaviors expected from his people, he holds himself as Minister of Finance publically accountable for government expenditure, revival of economic activities towards returning government revenues to pre-Erika levels and fund-raising to secure full recovery.

Throughout the recovery process he empowers his team members to do their best, at the same time has taken no personal praise but rather publicly thanked his team members, local volunteers and foreign supporters and aides for their hard work and assistance.

4. Stay focused

During an address to the nation on 29 September 2015, Prime Minister Skerrit descriptively listed a series of actions necessary to return the country to its former self. Facing the sobering reality of a 7 million Eastern Caribbean dollar revenue shortfall in the one-month post Erika and an estimated 1.2 billion to rebuild, Prime Minister Skerrit appealed to stakeholders and more pointedly the local private sector to work with the government in the coming weeks, months and years ahead – "I am already in receipt of some mind-boggling requests for tax waivers and concessions that were they to be granted would effectively bankrupt and shut-down this economy of Dominica…..we have to put greed and selfishness aside".

Seen as mere distractions to the goal and appreciating the enormous responsibilities on his shoulders, Prime Minister Skerrit then signalled his intent to pursue an aggressive speaking itinerary to raise funds for the 1.2 billion dollar rebuilding estimate. He again reminded Dominicans "that the road ahead is long and indeed winding but I am not daunted, I am certainly not daunted by the task ahead…..I shall remain focused".

5. Build a team of teams

Team building is a key skill for any leader, and Prime Minister Skerrit understanding this built groups of sectoral, national and non partisan committed individuals who consult with experts from across the region at all levels. This model has seen the convening of meetings with all 20 parliamentarians, donors, public officers, members of the productive sector and the collaboration of Organisation of Eastern Caribbean States (OECS) leaders and experts.

Prime Ministers Skerrit like other leaders in times of crisis is solidifying himself as a worthy leader and his leadership style is an example worth cheering.

Best wishes to our sister island Dominica as we all across the OECS and CARICOM come together to assist.